Podcast: Play in new window | Download
Subscribe: Google Podcasts | Spotify | Pandora | iHeartRadio | Stitcher | Email | TuneIn | Deezer | RSS | More
Maxwell Smart (Don Adams), the dimwitted super-spy from the hit TV series from the 1960s, "Get Smart" returned in 1980 for a brand new, racier adventure.  Entitled The Nude Bomb, it has lost that title over the years in favor of the more TV-programming friendly The Return of Maxwell Smart.  The gist of the film is that an agent from the super-terrorist organization, KAOS, is threatening to rid the world of all clothing if demands aren't met, using a bomb capable of destroying all forms of fabric.  It's up to Agent 86 of PITS, Maxwell Smart, to put an end to these nefarious plans, although wherever he turns, trouble seems to follow.  He suspects there may be a double agent trying to put a wrench in the works, but who?
Andrea Howard, Dana Elcar, Vittorio Gassman, Norman Lloyd, Sylvia Kristel, Rhonda Fleming, Pamela Hensley, Bill Dana also appear in this film directed by Clive Donner.
Erratum Note: Writer/producer Alan Spencer re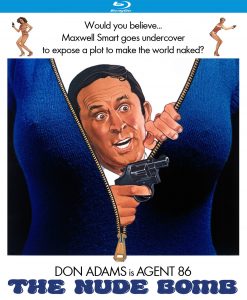 ached out to me on Twitter to let me know that a comment I made about "all" Eugene Roche's scenes being re-shot after his departure due to illness is not entirely accurate, as you can see him in a few long shots. He recommends the new Kino Lorber Blu-ray release of The Nude Bomb for a vast wealth of information on the making of the film.
Although I released this episode on 12/13/19, three days after the release of the Blu-ray on 12/10/19, I did the research on The Nude Bomb and recorded the episode approximately two weeks prior and did not have the Blu-ray's supplemental material or Alan Spencer's commentary to consult, so I do apologize for this discrepancy.
If you're interested in the most definitive take on The Nude Bomb, please check out the Kino Lorber release: https://www.kinolorber.com/product/nude-bomb-aka-the-return-of-maxwell-smart-4k-uhd